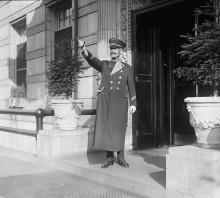 Click here to read Elliott's rebuttal.
Brock: Elliott, not only is it possible I mistranslated, it's probable. What's even more probable is that Anton was screwing with me. Going over his story again, there's a lot that doesn't add up. For instance, I don't know how the women in Slovakia rate, but I have a hard time believing someone with Anton's facial features could woo even the loneliest of widows. The guy always looks like he's just gone three rounds with Slovak welterweight and 1948 Olympic gold medalist Július Torma.
Come to think of it, my building didn't even have a doorman until Anton started hanging out in the vestibule. He doesn't have a uniform and he's never once opened the door for me. He does sign my Fresh Direct packages, but when I get them, they've been opened and there are bite makes on all the produce.
Perhaps I should propose a new Point/Counterpoint topic: Is there a drifter squatting in my lobby?
Tomorrow: Point/Counterpoint concludes. Will consensus be achieved? Will these differing opinions remain unreconciled? Who will cry first: Brock or Elliott? All will be answered tomorrow.