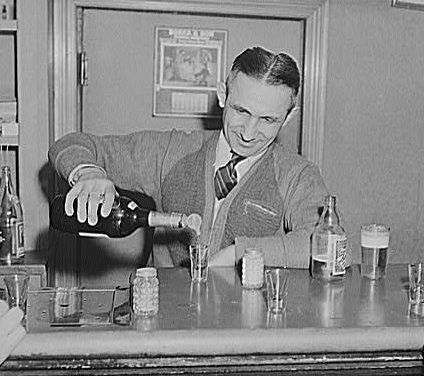 THE ARNOLD PALMER – $13
It was Palm Springs. It was the '60s. Arnie ordered his usual—iced tea and a lemonade. The woman next to him (there was always a woman next to Arnie in those days) ordered up "That Palmer drink." A legend was born. We've added a splash of vodka—hope you don't mind.
THE JACK NICKLAUS – $13
An Arnold Palmer, but 11 years younger.
THE ANGRY HUNGARIAN – $13
Hungarian vodka, blended goulash, bottled sweat of Bela Lugosi. If you dare go messing with this guy, be warned: he bites. Also known as the Budapest Bomber.
THE ANGRIER HUNGARIAN – $15
Same as The Angry Hungarian, but with Tabasco sauce and the perpetual scowl that comes with being undead.
BLOODY MARY – $12
Vodka, tomato juice, Worcestershire sauce, Tabasco sauce, horseradish, celery, olive, salt, black pepper, cayenne pepper, lemon juice, celery salt, cigarette ashes, irregular golf tees, DVD copies of Broken Arrow.
THE CHRIST ON THE CROSS – $14
Same as a Bloody Mary, but with Savior's blood
THE OLD FASHIONED PIG – $15
Bacon-infused whisky, maple syrup, Angostura bitters. The drink that I was having when Lucy announced to this very bar that she didn't love me anymore. Named for what she called me on her way out. Ironic that I was drinking bacon, isn't it?
THE SILVER SOMBRERO – $13
Black bean-infused anejo tequila. And yet it was Lucy, really, who was old-fashioned, saying there were "certain things" we couldn't do until we were married. Christ. What century is it, Lucy?
THE SOMBER VEIL MARTINI – $14
Gin, olives, virgin's tears. Not that we didn't do them anyway. (There, Lucy—I said it.) It's just that she wouldn't talk to me afterward. But from what I've heard, I wasn't the first. Far from it. Thinking about her in the throes of passion with someone else still drives me to drink. This one's pretty good for those nights—though it turns out they're not really virgin's tears.
CHILDREN OF THE CORN SANGRIA $12
Sangria, vodka, canned corn, bitters. And another thing—sure, Lucy, I am old-fashioned. I wear a suit every day, enjoy a cigarette and a stiff drink (like this one, incidentally). But you were the one fooling around on me—you should know better to piss off an angry Hungarian.
RUM AND COKE – $13
Rum, coke. But did you have to do it with Arnold Palmer?
LE FROMAGE DU JOUR – $11
Vodka, absinthe, a dab of farm-raised brie. Cheese. Booze. Bam.
Appears in Whim Quarterly Issue #1. Written by Paul Underwood.