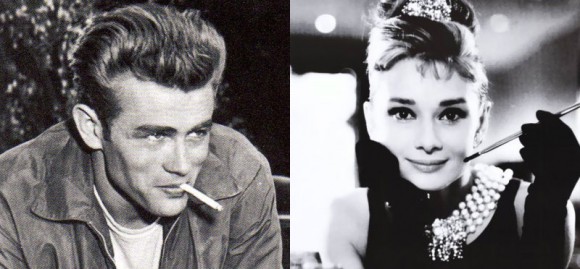 Dean: We were both big stars and then died young.
Hep: Yeah, except maybe I didn't die young.
Dean: That's true. I'm just assuming you did, because you were in Breakfast at Tiffany's and then maybe nothing else.
Hep: Sabrina?
Dean: With Greg Kinnear?
Hep: No, the original.
Dean: I don't know, maybe. And then you died?
Hep: What about Roman Holiday?
Dean: Oh yeah, right. It sounds like maybe you were in a lot of movies. Why do I think you died young then?
Hep: Because people only know that one picture of me when I'm young and wearing long gloves and smoking a cigarette from a cigarette holder.
Dean: So you didn't die young then.
Hep: Maybe I grew up to be Katherine Hepburn?
Dean: Are you fucking kidding me?
Hep: Sort of. It's very unlikely that I grew up to be her, right?
Dean: I think impossible.
Hep: Was she my mom or something?
Dean: Or you were hers.
Hep: Right, maybe I was hers.
Dean: All I know is I did Rebel Without a Cause, then two other movies, then crashed a car and died.
Hep: And as a result you're eternally young, handsome, and awesome.
Dean: Almost worth doing it that way, really. Otherwise you could end up being Mickey…
Hep: [Interrupting] Mickey Rourke. I was just gonna say that.
Dean: What's wrong with his face?
Hep: And body.
Dean: Yeah, and his body.
Hep: That Jimmy Dean sausage thing have anything to do with you?
Dean: I wish.