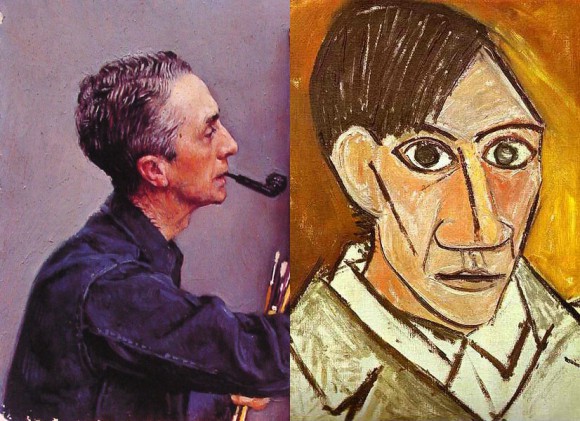 Pablo: I was alive a lot more recently than you would think.
Rock: I was alive in the 1950s.
Pablo: Yeah, I think I was too.
Rock: Are you sure? It seems like you should be a lot older than that. Like maybe you painted at the same time as Van Gogh and Da Vinci.
Pablo: Those two people did not paint at the same time.
Rock: Are you sure?
Pablo: No, not really.
Rock: Some of what you painted was weird. Remember that whole blue period thing? And then the ones where all the faces are fucked up.
Pablo: Yes, you paint things that are lot more normal, for instance the kid at the end of the diving board or the one with the umpires determining whether they should call a baseball game due to rain. Such important paintings.
Rock: Are you being sarcastic?
Pablo: No, not at all. The kid of the end of the diving board was a groundbreaking work of art. And also very similar to the cover of the Shel Silverstein book Where The Sidewalk Ends.
Rock: You know what man, my paintings made a lot of people happy.
Pablo: I think that's great. And really who cares if they're of the same quality as your average college art student.
Rock: Guernica is a thing you did that is impressive.
Pablo: It was big.
Rock: It had to do with the Spanish Civil War?
Pablo: It did.
Rock: This is because you are Spanish?
Pablo: Yes, this is likely because I am Spanish.