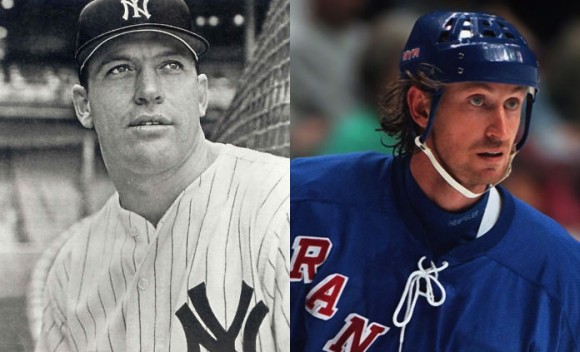 Mantle: I wore number 7 and then after that I died from drinking too much throughout my life.
Gretzky: I am known as the Great One, leading me to believe I was one of the best hockey players ever.
Mantle: I loved your work in the cartoon ProStars where you, Bo Jackson, and Michael Jordan fought crime and taught kids good lessons.
Gretzky: Yes, we were involved with that show but did not do the voices. Probably because we were professional athletes and don't have time to do the voices of cartoon characters.
Mantle: I played with Babe Ruth?
Gretzky: I think there's almost no chance of that. I want to say he played in the '20s and you played like 30 or 40 years later.
Mantle: Oh right, because of the Billy Crystal movie 61*, which was both about 61 home runs and about the year 1961.
Gretzky: I love the movie Mr. Saturday Night, even though I am probably Canadian and that is an American movie.
Mantle: He's in one scene in The Princess Bride.
Gretzky: I know.
Mantle: I played with Lou Gehrig?
Gretzky: I think you didn't. He still seems a lot older than you. Roger Maris is someone you played with definitely. And Don Mattingly is someone who played for the Yankees after you.
Mantle: If a player goes over the blue line before the puck does, he is offsides?
Gretzky: Something like that. Or the person with the puck near their hockey stick has to go past the blue line before another one of their teammates goes past that blue line.
Mantle: A power play is when one team has more players on the ice than the other team.
Gretzky: This is definitely true.
Mantle: Icing is…
Gretzky: Icing is another thing that happens in hockey.